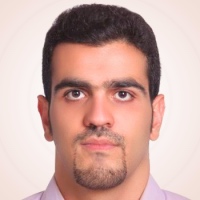 Mr. Ardalan Sabamehr
Alumni Coordinator
Department of Building, Civil & Environmental Engineering
Concordia University
IC-IMPACTS Research Project:
Structural Health Monitoring of Tall Buildings Using Vibration-Based Techniques
Ardalan is a PhD student under the supervision of Dr. Ashutosh Bagchi at Concordia University.  His research is focused on system identification, vibration base damage detection (VBDD) and modal updating methods. He passed all his graduate level courses with a 4.3/4.3 CGPA. He has published more than 12 conference papers and one journal article; two more journal articles are currently under review. Ardalan has work experience in the construction industry and was a technical manager for two years in the railway and subway industries in Iran. He has been a member of the engineering committee in Iran since 2009.
Ardalan has been a Teaching Assistant since 2014 and in this role has participated in most of the courses in structural engineering at Concordia University. He was also a Teacher Assistant during his graduate studies at the University of Technology, Malaysia for one year.
In addition to his involvement with the SEC, Ardalan is also the Vice President of the Engineering and Computer Science Graduate Association (ESCGA) at Concordia, a role he has had since August 2016.
Relationship with IC-IMPACTS
Graduate researcher with IC-IMPACTS since 2014
Participant, 2016 Summer Institute on Nanotechnologies

Rapid-fire poster presentation title: "Updating the Mathematical Models of Bridges using Data-Driven Techniques"
Member of team awarded Excellence in Collaboration and Creativity Award for their presentation on water treatment as part of the Scientific Entrepreneurship Workshop

Participant, 2016 Graduate Student Seminar; IC-IMPACTS Annual Research Conference and AGM

Presented poster to Annual Research Conference titled: "System Identification of a Four-Story Steel Frame"
Member of group awarded prize for best presentation at Graduate Student Seminar

Participant, 2015 Summer Institute on Optical Sensing Technologies

Rapid-fire poster presentation title: "The effect of using Nanosilica in permeability and compressive strength of concrete under condition of Caspian Sea"
Member of team awarded Excellence in Collaboration and Creativity Award for presentation on passive smoking as part of the Scientific Entrepreneurship Workshop