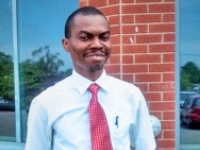 Mr. Christopher Nzediegwu
Webinar Coordinator
Department of Bioresource Engineering
McGill University
IC-IMPACTS Research Project:
An innovative green technology for treating municipal and industrial wastewater entering rivers and streams
Christopher Nzediegwu is a PhD candidate under the supervision of Prof Shiv Prasher at McGill University. Christopher is interested in understanding the fate and transport of organic and inorganic contaminants that find their way to soil and water substrate through agricultural practices such as wastewater irrigation, use of biosolids, use of manures, etc. Christopher is also interested in proffering biological solutions to help reduce the uptake of these contaminants by plants. Specifically, hormones, antibiotics and heavy metals that are endocrine disrupting and pose serious health challenges are of paramount important to him.
Christopher is interested in teaching and mentoring young people. He is a member of the academic staff at Federal University of Technology in Owerri, Nigeria, from which he graduated with a first class honour in Agricultural Engineering (2007). He has served as environmental advisor to the Macdonald Campus Graduate Student Society (MCGSS) at McGill University, and as an audit committee member for the Association of Graduate Students Employed in McGill (AGSEM).  He derives pleasure playing piano, lawn tennis and watching documentaries on wildlife. He is happily married to Blessing Nzediegwu.
Christopher was actively involved in the 2016 IC-IMPACTS Graduate Seminar and more recently has taken on the responsibility of coordinating the webinar series for the HQPs.
Relationship with IC-IMPACTS
Graduate researcher with IC-IMPACTS since 2014
Participant, 2016 Graduate Student Seminar; IC-IMPACTS Annual Research Conference and AGM

Presented poster to Annual Research Conference titled: "Cadmium Loading in Soil and Potato Tubers Irrigated with Untreated Wastewater"