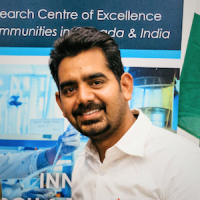 Mr. Sanjay Kumar
Country Representative: India
Department of Biological Engineering
Indian Institute of Gandhinagar (IIT Gandhinagar)
Sanjay Kumar is a third year Doctoral Research Scholar at IIT Gandhinagar (IIT-GN). Working at IIT-GN proved to be a turning point during his M.Tech. dissertation in the Spring of 2014:  he received practical exposure to working independently on various sophisticated equipment, which led him to join PhD program under the prestigious guidance of Dr. Bhaskar Datta. His research focus is the "Preparation of novel Nano-Bioconjugates and their applications in the area of food".  Prior to starting his PhD in 2014, he completed a B.Tech/M.Tech [dual degree] in Biotechnology and Bioinformatics with a minor in nanotechnology at the Centre for Converging Technologies, University of Rajasthan in Jaipur.
Sanjay has filed a patent on Nano-Bioconjugates for the detection of herbicide in water. Given his desire to continue in research, he published an article in the Journal of Food Science and Technology. He has also assisted his guide in writing the grant proposals for different funding agencies (ICAR, DRDO and IMPRINT India). When he completes his doctoral research, it is his goal to work as a post-doctoral fellow to develop novel technologies based on the Nano-bioconjugates.
He loves to visit natural sites and spending time thinking about nature's greatness. Sanjay gains pleasure by helping people in need. He also likes listening to music: the type of music depends on his mood.
Relationship with IC-IMPACTS
Participant, 2016 Summer Institute on Nanotechnologies

Rapid-fire poster presentation title: "Reusable Nanobiocatalysts for the Efficient Extraction of Carotenoids from Orange Peel"
Participating in the Summer Institute was a great opportunity for Sanjay to increase his knowledge of nanotechnologies as well as to connect with researchers from Canada and India (and beyond). He is confident he will fulfill his duties as Regional Representative (India) on the Student Engagement Committee (SEC).