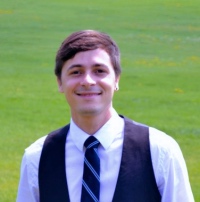 Mr. Wildemar Carvalho
Regional Coordinator: West-Central
Department of Chemistry
University of Alberta
IC-IMPACTS Research Project:
A Nanotechnology Enabled Device for the Detection of Harmful Bacteria in Drinking Water
Wildemar is a member of the SEC based at the University of Alberta in Edmonton and a PhD student in the Department of Chemistry under the supervision of Dr. Michael J. Serpe.
Before receiving his B.S. degree in Chemistry from Paraíba State University, Brazil, Wildemar participated in the Science Without Borders (SwB) scholarship program provided by Brazil's government where he joined the Serpe Group as an undergraduate student and conducted research on polymer-based materials for water remediation. He was also an international student at the University of Salamanca, Spain in 2010 under program TOP ESPAÑA Santander Universities.  As a PhD student, his current research involves the application of stimuli polymer-based biosensors for label-free detection of pathogens in water and blood serum.
Wildemar's first involvement with IC-IMPACTS occurred at the 2016 IC-IMPACTS annual Graduate Seminar/Research Conference and Annual General Meeting. Following this brilliant experience, he volunteered for the IC-IMPACTS 2016 Summer Institute held at the UofA in June. It is with great pleasure that Wildemar join such a great team and he is very excited for the upcoming events! During his free time, he loves to go rock climbing! It is a nice place to relax and get some exercise!
Relationship with IC-IMPACTS
Graduate Researcher since January, 2016
Participant, 2016 Graduate Student Seminar; IC-IMPACTS Annual Research Conference and AGM

Presented poster to Research Conference titled: "Poly (N-isopropylacrylamide) Microgel-Based Optical Device for Biosensing"