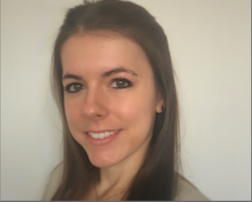 Ms. Claudia Bojanowski
Regional Coordinator: Quebec
School of Public Health
University of Montreal (UdeM)
IC-IMPACTS Research Project:
Dialled in: Tapping community voice to improve child immunization services in India
Claudia Bojanowski recently completed a M.Sc. in Public Health with a specialization in Global Health. Her interest in the complex and multiple factors that influence population health comes from her multidisciplinary academic background in Occupational therapy (B.Sc./2009), Human Kinetics (Certificate/2012) and Anthropology (Certificate/2013).
Claudia has been involved with IC-IMPACTS since Fall 2015 when she started working as a trainee on the research project "Dialled in: Tapping community voice to improve child immunization services in India", under the supervision of PI Dr. Mira Johri (Professor at UdeM, Principal Scientist at CRCHUM) and Dr. Aaditeshwar Seth (COO of OnionDev Technologies Pvt. Ltd., Professor at Indian Institute of Technology (IIT) Delhi). During her internship in New Delhi in early 2016, she participated in the development of an m-health social platform that aims to increase immunization coverage in rural India by fostering information circulation and community-based monitoring. She worked on the intervention's conceptual framework, the communications strategy, potential ethical issues related to the intervention, and on incentives to motivate volunteers. Claudia is now working for Dr. Johri as research coordinator and communications lead for this research project.
Claudia is an avid traveller who is always ready to meet new people and welcomes new experiences. In her spare time, she likes to share her travel tips on the blog "Boralá | Blog de Viagem com Bagagem", listens to Brazilian music, and enjoys a café Americano in one of Montreal's coffee shops.
 Relationship with IC-IMPACTS
Graduate researcher with IC-IMPACTS since late 2015.
As the Regional Representative for Quebec, she will bring to IC-IMPACTS the skills and leadership qualities she has developed by co-founding the University of Montreal's dynamic Global Health Student Group ("Communauté étudiante de santé mondiale").